The first phase of the construction of the railroad was completed, in 2019 connecting Port of Smederevo with the railway Corridor 10
Sat, 01-05-2019 - 10:31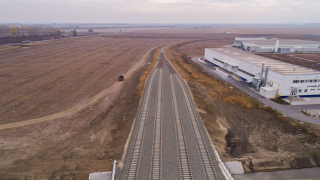 Works on the construction of 5.5 kilometers of railroads for freight traffic in Smederevo were completed within the deadline, and its release into traffic is planned for May 2019, after the work on electrification of the railway line was completed.
Within the first phase of the works, which lasted eight months and was completed in December, a new railway station was built in Smederevo. In the second phase, which begins in February, the railway line will be electrified, which will enable Port Smederevo to connect with the railway Corridor 10, via Mala Krsna-Smederevo railway line.
The total value of construction works of a new freight railroad in Smederevo is 9.5 million euros.
 

Smederevo's railroad line will be the first railroad in Serbia built exclusively for freight traffic. By releasing it for traffic, freight traffic from the center of Smederevo will be relocated, and the beginning of the reconstruction of the Smederevo fortress will be enabled.
The new railway line will connect Port Smederevo and the future industrial zone Smederevo with the existing network of railways in Serbia.

 
Completion of the freight railroad and the construction of the Terminal for bulk and general cargo of the Port Smederevo, which will begin in 2019, goods currently transported by trucks will be able to be transported by rail, which will lower transport costs and reduce pollution in Smederevo.