Keefe to Mihajlovic: Thank you for five years of successful cooperation
Thu, 07/04/2019 - 17:51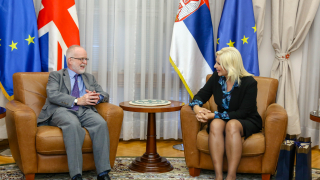 Deputy Prime Minister and Minister of Construction, Transport and Infrastructure, prof. Zorana Mihajlovic PhD., welcomed today H.E. Ambassador of Great Britain to Serbia, Denis Keefe, for his farewell visit and on that occasion thanked him for supporting and assisting in the implementation of reforms and realization of important projects for our country.

"The support that you have given us all these years is very important for our development, especially when we are talking about the reforms that we have implemented in the area of ​​electronic construction permits, cadaster and improving business conditions in Serbia, but also with the new infrastructure projects we are launching, such as Moravian Corridor, " Mihajlovic said.

Ambassador Keefe expressed his satisfaction with the cooperation with Deputy Prime Minister Mihajlovic, saying that bilateral relations between the two countries have progressed in these five years and that there is more room for cooperation.

"It was a pleasure working with you. We've launched a lot of important things. We will continue to support Serbia and in the area of ​​gender equality, Lord Ahmad's visit has been very successful and we expect you at the London Summit on the subject of sexual violence in conflicts. Also, you have our support when it comes to connecting the Western Balkans and Connectivity Agenda, " Keefe said.

Ambassador of the United Kingdom especially congratulated Deputy Prime Minister on completion of Corridor 10 and added that he leaves Serbia with the feeling that much has been done in the past five years.

At the meeting the issue of Kosovo and Metohija has also been discussed, and that it is necessary to abolish the fees Pristina introduced and to continue the dialogue.

Deputy Prime Minister gave a present to Ambassador Keefe – traditional Serbian products made by our women from rural areas, within the initiative "Let's employ 1,000 women in rural areas", jointly implemented by the Coordination Body for Gender Equality, NALED and Ethno-Network.