Mihajlovic: In 2021, 30 minutes ride by train from Belgrade to Novi Sad
Wed, 10/16/2019 - 13:01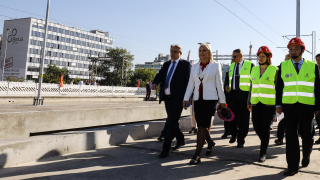 Deputy Prime Minister and Minister of Construction, Transport and Infrastructure, prof. Zorana Mihajlovic PhD, said today that works on two sections of the express railway from Belgrade to Novi Sad would be completed by the autumn of 2021 and that there would be a 30-minute train journey between two cities.

Mihajlovic said that while constructing Belgrade-Budapest high-speed railway line on Belgrade Center-Stara Pazova section, construction of the fast-track railway is the largest and most valuable infrastructure project in Southeastern Europe, with a total value of about four billion euros on the territory of Serbia and Hungary, of which about two billion euros in the territory of Serbia.
"This railway is important not only because it will take half an hour from Belgrade to Novi Sad, but also because with this project, Serbia has joined the global Chinese initiative "One Belt, One Road", as one of the first countries that has signed a memorandum with People's Republic of China on this project," Mihajlovic said.

She emphasized that about 40 percent of the works were performed on the first part of Belgrade Center - Stara Pazova section, from Belgrade Center Station to Zemun, and that from December all sections of the route would be operating simultaneously.
"Thanks to Chinese and Serbian Railways that the works are carried out 24 hours a day to meet deadlines, and it is especially important that all works will be carried out to European standards, which is checked by the notification body," said Mihajlovic, adding that by the end of 2021 a new bus station in New Belgrade will also be completed.

She emphasized that works on the section from Stara Pazova to Novi Sad were carried out within the agreed deadlines, and that a commercial and financial contract had been signed for the section from Novi Sad to Subotica, and that works could be expected to begin in February or March 2020. "The entire express railway line on the territory of Serbia should be completed in 2022 or 2023, and at the same time works on the territory of Hungary should be completed too," she added.
Acting Director General of "Infrastructure of Serbian Railways", Miroljub Jeftic, said that works are being carried out at several locations on this section, that all materials that would be used for railway construction had been certified and that special attention was paid to traffic safety, where state-of-the-art technical systems were used.

The CEO of China Railway International, Xiaoyong Hu, said that thanks to the support of Deputy Prime Minister, Ministry of construction and the Ambassador of PR China to Serbia, H.E. Chen Bo, the contractor was able to make significant progress in all segments of the project. "Procurement of equipment and materials is being done so that all requirements regarding quality and interoperability will be met," he said.
Belgrade Center - Stara Pazova railway is 34.5 kilometers long and is part of the project for the construction of a high-speed railway line up to 200 kilometers per hour between Belgrade and Budapest.

The contractor is a Chinese consortium of "China Railway International" and "China Communications Construction Company", and the contract value for this section of the railroad is $ 350.1 million.