Mihajlovic: In addition to the health crisis, the economic crisis, everyone who can should work
Mon, 07-13-2020 - 11:34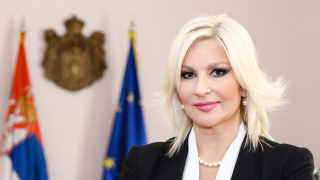 "No construction site in Serbia has been closed, and today 5,700 workers work only on large infrastructure projects. It is important that we do everything to remain uninfected and that everyone who can work, because it is a question of the survival of the economy ", said today Deputy Prime Minister of the Government of Serbia and the Minister of Construction, Transport and Infrastructure, Prof. Zorana Mihajlovic, phD.
Speaking as a guest on the morning program of TV Happy, she said that all countries in the world, including Serbia, are suffering the economic consequences of corona virus pandemic.
"The crisis will not last only this year. The next one will also be economically challenging and that is why it is important that everyone who can work. According to the estimates of the World Bank and the IMF, Serbia, as a small country with an elastic economy, will have the smallest drop in GDP. It is important for us that none of the creditors has given up and that we start new infrastructure projects, such as the construction of the Nis-Merdare-Pristina highway, for which we are announcing a tender this year," she said.
Mihajlovic reminded that, if we are responsible and apply all precautionary and protection measures, we can preserve our own health and the health of others, which is important because of the economy.