Mihajlovic: After 60 years, Nikola Tesla Airport gets the most modern control tower
Tue, 12-24-2019 - 15:22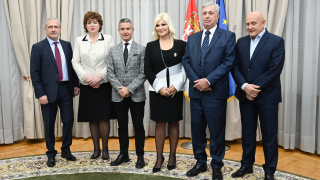 "Air traffic is as important for the development of Serbia as other modes of transport and since 2014, since we have invested in it, air traffic is by all standards in the European Union. After 60 years, Nikola Tesla Airport will receive a new air traffic control center with a tower built to all international standards," said Deputy Prime Minister and Minister of Construction, Transport and Infrastructure, prof. Zorana Mihajlovic PhD, attending the signing of the Contract for the construction of annexes to the building of Belgrade Flight Control Center with the AKL Belgrade Tower, between the Flight Control of Serbia and Montenegro (SMATSA) and "Energoprojekt".
Mihajlovic added that 2019 is the year of infrastructure, in which much has been done, and that the fact that the total investment program of SMATSA is 126 million euros speaks in favor of the importance of air transport for the country.

"In addition to the fact that Belgrade Airport will finally receive a new tower, next year we will start construction of the tower at Nis airport, as well as the construction of a new runway at Kraljevo airport. Given how air traffic has not been invested in before, every project is important to us," she said.
Predrag Jovanovic, director of Flight Control of Serbia and Montenegro, said that SMATSA began the process of comprehensive modernization of the system two years ago and that Nikola Tesla Airport will receive the most modern and beautiful tower in the region.

"It is a smart and energy-efficient building with state-of-the-art equipment, which will contribute to the efficient and safe monitoring of traffic at the airport. The facility will be spread over 7,500 square meters, with a tower 75 meters high, with a dome at the top, from which flight controls will be exercised," said Jovanovic.

On behalf of the contractor of "Energoprojekt", Zoran Mihailovic, director of the company, expressed satisfaction with the trust shown to this company, saying that they have all the capacities and equipment for this business, and that the works will start after the holidays.