Mihajlovic: After almost 40 years, the most modern locomotives for cargo transportation are here
Fri, 06/14/2019 - 15:45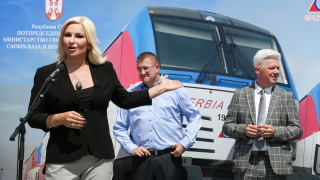 Deputy Prime Minister and Minister of Construction, Transport and Infrastructure, prof. Zorana Mihajlovic PhD., said today that the Government of Serbia is investing in the development and modernization of the railway in order to make Serbia an inevitable transit corridor.
 
Mihajlovic, who was present at the Railway Station in Resnik when new "Siemens" "vectron" locomotives of the company "Serbia Cargo" was released for traffic, said that there was nothing more important than the reconstructed railroads and new trains.
"Sixteen new locomotives are important not only for "Serbia Cargo " but also for Serbia, because our goal is that Serbia, both in railway and road transport, will be an inevitable transit corridor. For that, we need rebuilt tracks, new trains, trained engineers, and follow technological progress in the world. We must continue to invest, there is still much work ahead of us in order to have a fully modernized railway Corridor 10 for a maximum of five to six years. Today, that sounds incredible to many, but it sounded incredible, and in 2014 everything we have done to modernize the railways " , says Mihajlovic.
 
She recalled that in the previous period 48 passenger trains were purchased, and now, after almost 40 years, and 16 freight locomotives. "A few years ago, the average age of machine engineers in Serbia Cargo was about 50 years, and in the past two years, about 180 young engineers were employed. In the previous period, about 500 kilometers of railways have been restored, and another 500 kilometers of railway will be renewed during this and next year, " said Mihajlovic. 
Acting Director of Serbia Cargo, Dusan Garibovic, said that the new, most modern "Siemens" locomotives were purchased with the support of the Serbian Government, Deputy Prime Minister, the ministry and the European Bank for Reconstruction and Development. "From today, the youngest locomotive of " Serbia Cargo " is not 38 years old, but with 16 new locomotives we meet the needs of all investors who use railway services," said Garibovic.
 
General Manager of the company "Siemens" in Serbia Udo Eichlinger said that with the locomotives delivered to "Serbia Cargo" this company will be very competitive in transporting goods on the railroad of Corridor 10, but also outside this corridor.
 
64 million euros were invested in the purchase of the new 16 locomotives.