Mihajlovic: After Nis and Kraljevo, we are also developing small airports "Ponikve" and "Rosulje"
Mon, 01-13-2020 - 08:34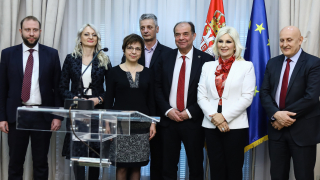 Deputy Prime Minister and Minister of Construction, Transport and Infrastructure, prof. Zorana Mihajlovic PhD, signed today with Mayor of Uzice, Tihomir Petkovic and Deputy Mayor of Krusevac, Vesna Lazarevic agreements on the transfer of founding rights to Ponikve and Rosulje Airports to the Republic of Serbia.

Mihajlovic emphasized that the practice that began with the airports in Nis and Kraljevo continued, that other airports in Serbia should be built in addition to Nikola Tesla Airport.

"The reason is simple, practice has shown that it is much easier for us to find the funds and invest in airports when they are under one company, which is Airports of Serbia. It is important that in addition to road, rail and water infrastructure, local governments have developed and small airports, and the multiplicity of passengers at Nis airport is proof that we can develop them," she said.
Deputy Prime Minister added that at least 10 million will be invested in Ponikve Airport in the coming period, and it is estimated up to 20 million euros, because this region has serious potential and that its advancement won't stop, and that Bor will receive new airport.

Tihomir Petkovic thanked President of the Republic of Serbia, Aleksandar Vucic, and Deputy Prime Minister, on behalf of citizens of Uzice, for coming forward to the city's requests that ownership of Ponikve Airport be transferred to the Republic of Serbia.
"In the past ten years, we have tried to put the airport into operation ourselves, but we have neither the staff nor the financial capacity to do so, and we are happy that the state will take over the development of our airport," Petkovic said.

Vesna Lazarevic said that by transferring the ownership of Rosulje Airport to the Republic of Serbia, Krusevac is moving towards rapid development.

"Thanks also to the President of Serbia and the Government, especially Deputy Prime Minister Mihajlovic, for recognizing the strategic goals of Krusevac development. We, as a local self-government, will help to realize the investment in Rosulje, which is very important to us, along with the construction of Morava corridor," Lazarevic said.