Mihajlovic: The agreement from Washington brings economic development and better bilateral relations with the United States
Thu, 09-10-2020 - 12:41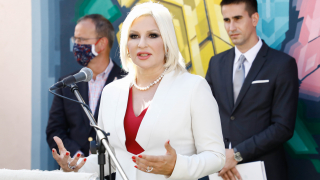 Deputy Prime Minister and Minister of Construction, Transport and Infrastructure, prof. Zorana Mihajlovic, phD, stated today in Stapar that the economic agreement signed in Washington is extremely important for the development of the entire region, although various unusual opinions can be heard in Serbia.

"No status solution was signed in Washington, nor was there any talk of recognizing Kosovo and Metohija. "It is an agreement that brings investments worth close to four billion dollars and which is important for the economic development of the entire region," she said.

Mihajlovic added that the agreement from Washington brings better bilateral relations between our two countries, and that she is looking forward to the arrival of the American Development Fund in Serbia.

"It is a fund that is part of the American government and whose supervisory board includes, among others, Pompeo and Ross, high American officials. Serbia has shown that it is an open country for investments, and American, Chinese and Russian, Azerbaijani and many other world-successful companies operate on our territory. We will discuss projects with the American Fund, in addition to Nis-Merdare-Pristina highway, there will also be talks about a new highway from Bujanovac to Strpac, reconstruction of roads in Kosovo and Metohija, and railway connections. It is important for us that, in addition to port Bar, that we go all the way to the Albanian port. We have opened up and we want to develop the country, because our goal is for the citizens to live better ", concluded Mihajlovic.