Mihajlovic ahead of the Western Balkans Summit: Serbia remains committed to a European path and values
Tue, 05-05-2020 - 15:30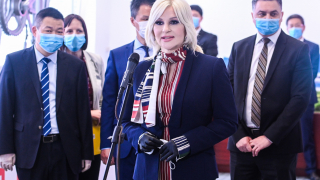 Deputy Prime Minister and Minister of Construction, Transport and Infrastructure, prof. Zorana Mihajlovic PhD, said today that Serbia remains committed to European standards and its path to the European Union.
Asked to comment on tomorrow's Western Balkans Summit, which is being held online in Zagreb, Mihajlovic said that today all countries are in serious crisis, both health, economic and social, and that investments and projects are a way to accelerate economic development.
"Serbia works with everyone who is the best in the world. And Belgrade-Budapest high-speed railway line is being built to the highest European standards. I expect that we will continue with the implementation of the projects we are doing with the EU, such as the construction of an intermodal terminal and Nis-Merdare-Pristina highway, but also start some new projects together and discuss new grants," she said.