Mihajlovic: Air Serbia's first commercial flight after the state of emergency
Thu, 05/21/2020 - 10:28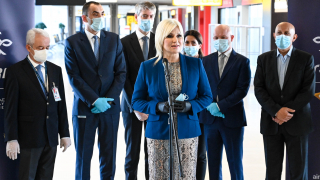 Deputy Prime Minister and Minister of Construction, Transport and Infrastructure, prof. Zorana Mihajlovic PhD, visited today, with the general directors of Belgrade Airport and "Air Serbia", Francois Berisot and Duncan Naysmith, "Nikola Tesla" Airport, on the occasion of the first commercial flight of "Air Serbia" after the lifting of the state of emergency.

On this occasion, Mihajlovic pointed out that this is an important day for all of us, because after two months we are sending the first commercial flight that will return full from Zurich, and that "Air Serbia" was the first in the region to start with commercial flights.

"Apart from Zurich, flights to Frankfurt, London, Vienna, but also Paris, Amsterdam, Ljubljana, New York and other cities will be realized. It is important that we slowly begin to return to a more normal life. We work together as one team and do everything to make this mode of transport more accessible and to have as many regular lines as possible. "Security is certainly in the first place," she said.

Mihajlovic added that from tomorrow, there will be no mandatory PSR test or self-isolation when entering Serbia, and that our citizens who travel to other countries will have to behave and comply with the obligations of those countries.

Deputy Prime Minister pointed out that this branch of traffic has suffered great losses everywhere in the world and that the damage so far is over 70 million euros, and that she hopes that we will end the year with less than 200 million euros of damage in air traffic.

Francois Berisot, General Manager of "Nikola Tesla" Airport, said that they had been waiting for this day for a long time, two months.

"Thanks to our partner, "Air Serbia", they did an extraordinary job and organized more flights than we could have dreamed of a few weeks ago. "I also thank the Government of Serbia for its support," he said.

Duncan Naysmith, director of "Air Serbia", said that this company is realizing five flights today, three to Zurich and two to Frankfurt, and announced new flights.

"We are thrilled with the first commercial flight. In addition to Zurich, London, Vienna and Frankfurt, at the end of the month we will fly to Amsterdam and Paris, then Ljubljana, Tivat and other cities in the region. And from June 6th, for New York as well. Thank you all for your help and support," said Duncan.