Mihajlovic with "Aktor": Completion of the Eastern Fork of Corridor 10 is a priority
Fri, 05-31-2019 - 14:12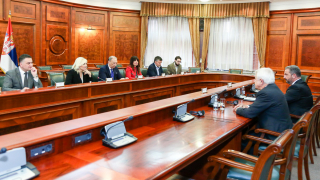 Deputy Prime Minister and Minister of Construction, Transport and Infrastructure, prof. Zorana Mihajlovic PhD., spoke today with the management of the Greek company "Aktor", which is a contractor for four sections on the Eastern fork of Corridor 10.
 
"Our goal and priority is to make the entire eastern fork of the Corridor 10 as soon as possible in traffic, that citizens can use it and that part of Serbia that relies on this highway can develop faster," Mihajlovic said.
 
She said that she did not intend to hide the dissatisfaction of the Serbian government with "Aktor" breaking the deadlines on setions on the eastern fork and insufficient number of workers and machinery on construction sites.
"We expect a clear plan and measures that you will take to complete the project. We are aware that since last year "Aktor" has a new administration that has inherited numerous problems, but we, as a ministry, succeeded in projects, taking the responsibility for solving the problems, "Mihajlovic said at the meeting with the president and director of "Aktor " Anastasios Kallitsantsis and Alexandros Exarchou.
 
Kallitsantsis and Exarchou said that the company will do everything to complete the project and to change the perception of the work of "Aktor" in Serbia.
 
Within the construction of the E-80 Nis-Dimitrovgrad highway, "Aktor" was engaged in the construction of four sections, the total length of 48.7 km, and the total contracted value of works of 174.9 million euros.
 
So far, three sections have been released into traffic, Crvena Reka - Ciflik, Stanicenje-Pirot and Dimitrovgrad bypass, and works on the section Bancarevo - Crvena Reka are in process.