Mihajlovic in Aleksinac: Infrastructure is the basis of life, we have invested 4.6 million euros in a drinking water factory
Mon, 06-15-2020 - 13:53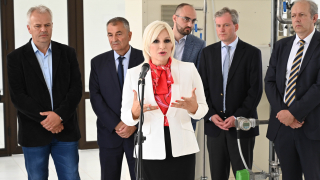 Deputy Prime Minister and Minister of Construction, Transport and Infrastructure, Prof. Zorana Mihajlovic, phD, visited today the reconstructed factory for purification of drinking water in Aleksinac, in which 3.2 million euros were invested through the program of joint cooperation with the German KfW bank.

On this occasion, Mihajlovic pointed out that together with the German government and the municipality of Aleksinac, 4.6 million euros were invested in the reconstruction of the factory and the replacement of the water supply network in Aleksinac.

"Communal infrastructure is just as important as road and railway. Without clean water, there is no further development or better living conditions for people in Serbia, and that is why we are doing all this. Thanks to KfW, we have been working together for six years, water factories in Smederevo, Vrsac, Pirot, Sombor are ready. In Aleksinac, we are also investing in road and railway infrastructure, and through the new investment plan, 200 km of local roads will be rehabilitated," she said.

Deputy Prime Minister added that in the investment plan "Serbia 2020-2025", around a billion euros will be invested in communal infrastructure.

"We will invest in both water factories and sewage. "Infrastructure is the basis of life and there is no part of Serbia where we will not continue to build roads and railways, as well as communal infrastructure, primarily sewerage networks," said Mihajlovic.

The director of the Office of the German Development Bank KfW in Serbia, Arne Goss, said that he was looking forward to seeing the new water purification plant, which is the result of great joint work on the project.

"This modern plant will be used by a large number of citizens of Aleksinac according to all world standards for environmental protection." In addition to this comprehensive program in several cities in Serbia, in the coming years we will work on other projects in the field of environment, primarily solid waste management in municipalities across Serbia," he said.

The president of the municipality of Aleksinac, Nenad Stankovic, stated that there is no more important investment than the one in healthy drinking water.

"With this plant, we keep what we have - drinking water for the 21st century. In cooperation with the Ministry and KfW, we have improved the water quality of our fellow citizens ", said Stankovic.

Dragisa Simic, director of the water plant factory, thanked Deputy Prime Minister and the team of the Ministry for their help and support in the realization of this program.

"We have renovated the plant and reconstructed 12 km of the network, all in the value of more than 4 million euros, which is a great undertaking for our municipality." Thank you all for your support," Simic said.