Mihajlovic and Ambassador Chen Bo on new projects in Serbia and China
Wed, 11/27/2019 - 14:23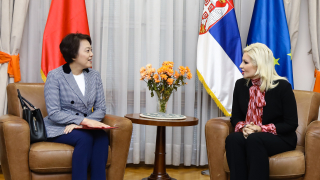 Deputy Prime Minister and Minister of Construction, Transport and Infrastructure, prof. Zorana Mihajlovic PhD, spoke today with the Ambassador of the People's Republic of China in Serbia, H.E. Chen Bo, about cooperation on joint infrastructure projects of the two countries.

Deputy Prime Minister Mihajlovic and Ambassador Chen Bo discussed the progress of works on Belgrade Center - Stara Pazova fast raillway track, where Chinese companies are performing works, and preparations for the start of work on the third section, from Novi Sad to Subotica, expected in the first quarter of 2020.

"By working together and cooperating well, we have succeeded in accelerating many projects and it is important that we continue to work equally closely on new projects," Mihajlovic said.

At the meeting the planned projects for the construction of Fruska Gora Corridor have been discussed, ie Novi Sad - Ruma fast raillway track and Iverak-Lajkovac fast raillway track, which would connect Valjevo to Highway Milos the Great.