Mihajlovic and Armitage: Support from the UN Population Fund to Serbia and the region is more than welcome
Tue, 10-15-2019 - 14:31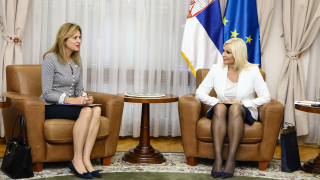 Deputy Prime Minister and President of the Coordination Body for Gender Equality, prof. Zorana Mihajlovic PhD., spoke today with United Nations Population Fund (UNFPA) Regional Director, Alanna Armitage.

Deputy Prime Minister Mihajlovic informed the guest about the measures implemented by Serbia in population policy, as well as the activities carried out by the Coordination Body for Gender Equality.
"Population policy and demography are a central issue not only for Serbia and the region, but for the whole Europe and the world, because we are all faced with the same problem: how to have as many children as possible, and how to respond to new migration processes. The economic situation is not the main reason, and the measures implemented by the Government of Serbia cannot give quick results, but they will be measured in the future. That is why it is best to solve this problem together, at the level of the region and Europe, and the help of the UN Population Fund is more than welcome," Mihajlovic said.

Alanna Armitage thanked Deputy Prime Minister Mihajlovic for everything she has done so far in the field of ​​population policy, as well as on issues of gender equality and prevention of violence against women.
"Our focus will definitely be on population policy in the region, where we will work together with international financial organizations and anyone who can help. It is extremely important that we have a significant partner in Serbia, Government of Serbia and the Coordination Body that you lead," said Armitage.

UNFPA Regional Director on this occasion made an official invitation to the Deputy Prime Minister of Serbia, Zorana Mihajlovic, to participate in the world conference on the occasion of 25 years of work of the UN Population Fund, which will be held in Nairobi in November.