Mihajlovic and Berisot: We will make Belgrade airport the best one in the region
Thu, 08/01/2019 - 08:12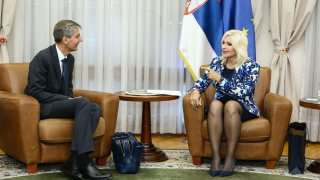 Deputy Prime Minister and Minister of Construction, Transport and Infrastructure prof. Zorana Mihajlovic PhD., met today with new CEO of "VINCI Airports Serbia" Francois Berisot, to discuss investments in Nikola Tesla Airport, since the French company "Vinci" has taken over the management of Belgrade airport, based on a signed concession contract for 25 years.

"We are partners in this business and it is in our mutual interest to fulfill the goals set out in the contract, because this is a project of national interest for Serbia and I believe that in the years to come we will see great results from the concession of Nikola Tesla Airport. The ministry I lead is here to give you all the support you need to effectively implement the agreed plans, make the airport even faster, and for Serbia to become the hub for air traffic in the region, " said Mihajlovic.
Francois Berisot pointed out that Vinci company has the vast experience and knowledge needed to upgrade an airport and that they are here to contribute to the further development of Belgrade's airport.

"Our strategic goals are the same, we are here to make Nikola Tesla Airport even more operational and your support is extremely important to us," Berisot said.