Mihajlovic and Bocan-Harchenko: For even greater cooperation between Russia and Serbia in infrastructure
Tue, 08/06/2019 - 13:43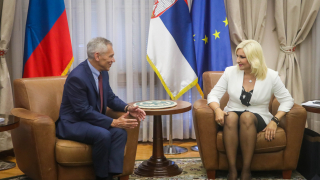 Deputy Prime Minister and Minister of Construction, Transport and Infrastructure, prof. Zorana Mihajlovic PhD., met today with the newly appointed Ambassador of the Russian Federation to Belgrade, Alexander Bocan-Harchenko, wishing him a welcome to Serbia in belief that during his tenure, the two countries would have even more successful co-operation.

Deputy Prime Minister Ms. Mihajlovic took this opportunity to thank His Excellency for the principled support that the Russian Federation and President Putin give to Serbia.

"Thank you for respecting the territorial integrity and sovereignty of our country. I believe that for your term, our two countries will have even more successful cooperation in economics and infrastructure. As you know, together with the Russian company RZD, we are implementing one of the most important infrastructure projects - the reconstruction of the high-speed line from Belgrade to Budapest and we can all be proud of that cooperation, "she said.
Ambassador Bocan-Harchenko emphasized that the Ministry of Construction, Transport and Infrastructure plays an important role in the comprehensive cooperation between Serbia and the Russian Federation.

"The fast railway line is a priority for us too, it has a great prospect and is important for the countries of the region as well as for Central and Southeastern Europe. In addition, there is a lot of space for co-operation in other areas of the Ministry that you lead - from air, water to road transport, as well as construction, energy, " he said.

Mihajlovic added that the Government of Serbia is launching a new investment cycle, in which the Ministry will have a large participation, and that this is an opportunity to show good cooperation with the Russian Federation so far, but also to start new projects.

At the meeting, it was agreed, among other things, that Mihajlovic and Bocan-Harchenko will visit the works on the reconstruction of the Belgrade-Budapest fast railway line in the coming period., These works are being carried out by the Russian company RZD.

Deputy Prime Minister gave a welcoming gift to Russian Ambassador which is a Serbian alphabet in goldsmith, work of the women from rural areas, who, as part of the initiative of the Coordination Body for Gender Equality, NALED and Ethno-Network "Let's Employ 1,000 Women", produce traditional Serbian handicrafts, part of our country's cultural heritage.