Mihajlovic and China's ambassador on Belgrade's bypass: Completion of works in less than two years
Mon, 04-27-2020 - 19:01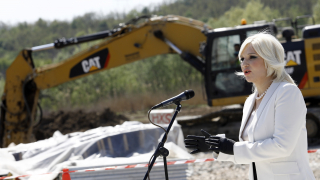 Deputy Prime Minister and Minister of Construction, Transport and Infrastructure prof. Zorana Mihajlovic PhD, visited the construction site of the bypass around Belgrade with the Ambassador of the People's Republic of China, H.E. Chen Bo, today and stated that the completion of the bypass would enable freight traffic to be relocated from the city center after many decades.
"I am proud of all the construction sites in Serbia, which currently employ more than 3,500 workers. Thank you to all the contractors, investors, and especially the workers who, in these difficult circumstances, when both worry and fear are prevailing," she said.
Mihajlovic said that the section of the bypass around Belgrade will be 20 km long and worth 207m euros and will be finished in less than two years.
"In addition, contractors have informed me that the bridge on Ostruznica will be completed in May this year," she said.
Mihajlovic thanked People's Republic of China and Ambassador Chen Bo, who has been with Serbia since the first day of the epidemic, as well as all Chinese companies at work and the donations they provided.
China's Ambassador to Serbia, Chen Bo, said that Chinese companies have not stopped working on projects they are implementing in Serbia.
"All Chinese companies have done their best to reduce the negative effects of COVID-19. We are actively involved in the fight against the epidemic. The health of workers is paramount, but we will also contribute to Serbia's economic recovery, Bo said.