Mihajlovic and Hasanov on construction of highway Ruma-Sabac and highway Sabac-Loznica
Mon, 05-13-2019 - 16:13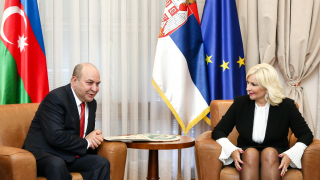 Deputy Prime Minister and Minister of Construction, Transport and Infrastructure, prof. Zorana Mihajlovic PhD, talked today with Azerbaijani Ambassador, H.E. Eldar Hasanov, about the project of construction of the highway Ruma-Sabac and the highway Sabac-Loznica.


"We are ready for the realization of this project, which is one of the priorities for us this year. It is therefore important that as soon as the Azerbaijani side approves a loan of 210 million euros, we will start the work on this project, " Mihajlovic said.


She praised the engagement of Azerbaijani company "Azvirt" on infrastructure projects in Serbia, including works on tunnels on sections of the highway through Grdelica gorge, which will be released for traffic on Saturday.


The meeting also discussed the next steps in the implementation of the project for the construction of the bypass around Belgrade, Sector C, from Bubanj potok to Pancevo, for which a Memorandum of Understanding with the Chinese-Azerbaijani Consortium "Power China " and "Azvirt" was signed in April in Beijing.

 
Hasanov thanked Deputy Prime Minister for good cooperation between Serbia and Azerbaijan and stressed that the Azerbaijani side will do everything to enable the realization of a new project in Serbia as efficiently as possible.