Mihajlovic and Lo Cascio: About the visit of the Prime Minister of Italy and cooperation in the railway sector
Fri, 03-01-2019 - 16:20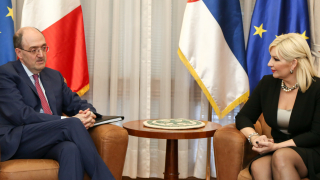 Deputy Prime Minister and Minister of Construction, Transport and Infrastructure, prof. Zorana Mihajlovic PhD, spoke today with Italian Ambassador H.E. Carlo Lo Cascio on the upcoming visit of the Italian Prime Minister Giuseppe Conte, who will arrive on March 6th for an official visit to Serbia.


Deputy Prime Minister Ms. Mihajlovic and Ambassador Lo Cascio agreed that there is a great interest of Italian railway companies for cooperation, especially on Corridor 10, but also for connecting with Corridor 5. It was also discussed about the possibility that, after the visit of Prime Minister Conte, the companies "Infrastructure of Railways of Serbia " and "Italian Railways" sign a Memorandum of Understanding.


Ambassador Lo Cascio pointed out that the forthcoming visit of the Italian Prime Minister to Belgrade is of great importance, since it is the first visit of the Prime Minister of Italy to the countries of the region and Europe, and that Italy strongly supports the entry of all the countries of the Western Balkans into the European Union.