Mihajlovic and Mitchell on bilateral cooperation and infrastructure projects
Wed, 05-15-2019 - 11:16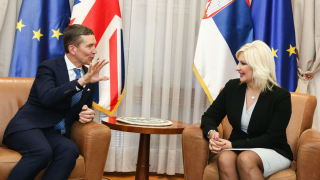 Deputy Prime Minister and Minister of Construction, Transport and Infrastructure, prof. Zorana Mihajlovic PhD, spoke today with Britain's Trade Commissioner for Europe, Andrew Mitchell, on bilateral co-operation between the two countries, regional integration and infrastructure projects that Serbia is implementing.
 
Mihajlovic thanked Mitchell for the support of Great Britain to the European path of Serbia and the implementation of reforms that contributed to the improvement of the business environment in Serbia. She also pointed out that there is a significant place to promote economic cooperation, both in the area of ​​infrastructure and in the area of ​​transport, where this year in London was signed the Agreement on international road traffic between Serbia and the United Kingdom.
"Serbia is launching a new investment cycle in infrastructure this year, worth more than five billion euros. The emphasis in the selection of projects has been put on projects of regional importance because good infrastructure connection with neighbors is important for the competitiveness of the economy, new investments and faster economic development, "Mihajlovic said.
 
Among the projects whose implementation starts this year is the construction of the Moravian Corridor, ie Pojate-Preljina highway, for which a Memorandum was signed with American company Bechtel, and among the financiers is UK Financial Bank. "Our plan is to start this highway in summer, and it is important for us because it will connect the two main highways, Corridor 10 and Corridor 11, an area where ​​about 500,000 people live," said Mihajlovic.
Andrew Mitchell, the first High Representative of the British Ministry of Commerce who visited Serbia, in a conversation with the Deputy Prime Minister emphasized the UK's interest in improving the bilateral relations and economic cooperation between the two countries.
 
"Regardless of all the uncertainties associated with the UK leaving the EU, we remain interested in the region of the Western Balkans and Serbia, as well as in improving our bilateral relations, which in the future we want to further grow, especially in the fields of economy, trade and development of infrastructure. We are very satisfied with the arrival of the UK Financial Bank in Serbia. This is a modern and simple model of financing, both for capital projects of the Government of Serbia and for business ventures of private companies in Serbia, "Mitchell said.
 
The Ambassador of Great Britain to Serbia, H.E. Denis Keefe, also attended the meeting.