Mihajlovic and Pinter on the reconstruction of Subotica-Szeged railway and the expansion of Horgos border crossing
Mon, 06-22-2020 - 11:25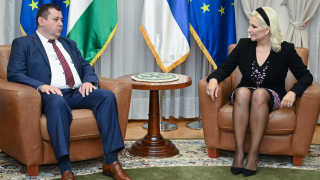 Deputy Prime Minister of the Republic of Serbia and Minister of Construction, Transport and Infrastructure, prof. Zorana Mihajlovic phD, talked today with the Ambassador of Hungary to Serbia, H.E. Attila Pinter, about the cooperation between the two countries in the field of infrastructure and transport.

"Serbia and Hungary are working together on the largest railway project in this part of Europe, the construction of Belgrade-Budapest high-speed railway line, but there are also great opportunities for expanding cooperation with new projects, both in railways and in water transport as well as other areas," Mihajlovic said.

In addition to the current status of the project of modernization and reconstruction of Belgrade-Budapest railway on the territory of both countries, the planned project of reconstruction of Subotica-Szeged railway, reconstruction of Tisa ship crossing, and the planned expansion of Horgos border crossing, were also discussed at the meeting.

Reconstruction of Subotica-Szeged railway, about 27 kilometers long, is one of the priority projects envisaged by the Framework Agreement on Economic and Technical Cooperation between the Government of Hungary and the Government of the Republic of Serbia in the field of infrastructure projects.