Mihajlovic and Rjupin: Lukoil wants to develop further in Serbia
Fri, 11-29-2019 - 15:21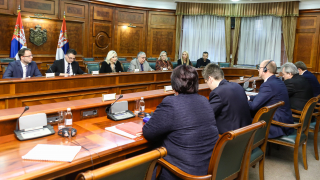 Deputy Prime Minister and Minister of Construction, Transport and Infrastructure, prof. Zorana Mihajlovic PhD, met today with a delegation of the Lukoil Company, led by Denis Rjupin, Managing Director, and discussed with them the cooperation of this Russian company and Government of Serbia.

"Serbia and the Russian Federation have very good bilateral relations and strategic partnership, based on the excellent relations between the two presidents. It is in our interest that Lukoil, as a successful company, continue to operate in Serbia and that we are here to support your business in alignment with the existing and new legal regulations of our country," said Mihajlovic.

Denis Rjupin pointed out that Lukoil has been in Serbia since 2003 and that he intends to stay in our country and base his business on Serbian legislation.

"Lukoil" is a company that intends to develop further. We have been in the Serbian market for a long time and we want to stay here. Your support in complying with local legislation is important to us, "Rjupin said.