Mihajlovic and Smajic on the construction of Belgrade-Sarajevo highway
Thu, 09-26-2019 - 15:10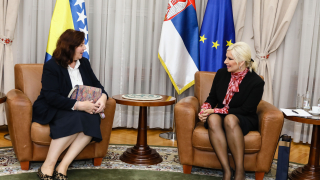 Deputy Prime Minister and Minister of Construction, Transport and Infrastructure, prof. Zorana Mihajlovic PhD., spoke today with the new Ambassador of Bosnia and Herzegovina to the Republic of Serbia, Aida Smajic, and the main topic of the meeting was joint infrastructure projects.

"We have a number of joint projects in the field of infrastructure and we want to make our cooperation more efficient, which is a way to show that as a region we can cooperate with each other and move forward," Mihajlovic said.

She said the most important project for the two countries is the construction of Belgrade-Sarajevo highway, which will be built as a ring highway, connecting the two countries in two directions. "Work on the construction of the first section of Sremska Raca - Kuzmin has already begun and we expect that during the visit of Turkish President, Recep Tayyip Erdogan, Presidents of Serbia and Turkey and Presidents of the B&H Presidency will visit them. For the second section, from Pozega to Kotroman, project-technical documentation is being prepared," Mihajlovic said.
She stressed the importance of completing a common border crossing in B&H, which will allow the construction of a bridge between Ljubovija and Bratunac, built by Serbia, which is of great importance for the citizens and the economy of the two countries.

Smajic said that diplomatic relations between Bosnia and Herzegovina and Serbia are good and that the best segment of cooperation is the area of economy, and the most important joint project between the two countries is the construction of Belgrade-Sarajevo highway.