Mihajlovic and Tjurdenjev: Excellent cooperation of Ministry and NIS
Thu, 03/28/2019 - 14:16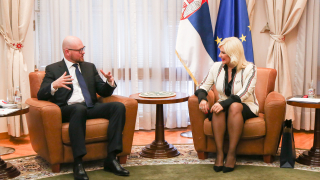 Deputy Prime Minister and Minister of construction, transport and infrastructure, prof. Zorana Mihajlovic PhD., met today with Kiril Tjurdenjev, General director of the Petroleum Industry of Serbia (NIS), with whom she discussed the cooperation between the Ministry and this company.
 
Mihajlovic said that NIS is one of the strategic partners of the Serbian government and that she expects good cooperation to continue in the future.
 
"NIS investments in Serbia are important for our economy and GDP. We are open for further cooperation and assistance. As you know, Serbia is finishing an important Corridor 10, we are continuing to build Corridor 11 and a new investment cycle worth five billion euros was launched this year. In 2018 only, 53 million cars have passed through our highways, which is 20 million more than two years ago. I'm sure that together we can improve the services available to drivers, and one of the ways is to cover the route with electric power stations, "Mihajlovic said.
Kiril Tjurdenjev stressed that NIS with the Ministry of Construction, Transport and Infrastructure has one of the most successful cooperations, and added that they are currently implementing three major projects - construction of deep processing plants, investments in energy pipeline in Pancevo and wind farm in Plandiste.

 
"It is admirable, how efficient you are leading such a complex ministry and how you realize big projects. We are very open to cooperation, energy transition is one of the key issues for us, we want to build gas stations along the corridor, and it is planned to continue investing in the airport and fuel storage facilities for aircraft, " Tjurdenjev said.