Mihajlovic and Vesic: BG train soon to Pancevo, Mladenovac and Lazarevac
Tue, 04/16/2019 - 15:39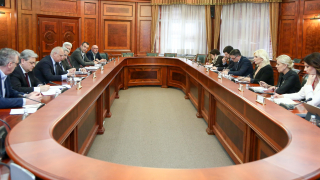 Deputy Prime Minister and Minister of Construction, Transport and Infrastructure, prof. Zorana Mihajlovic PhD, today spoke with the representatives of the City of Belgrade and the directors of railway companies about extending the BG train lines to Pancevo and Belgrade municipalities of Mladenovac and Lazarevac.

 
Mihajlovic said that one of the initiatives that should be implemented is the extension of the BG train line to Pancevo, which was agreed at a meeting with representatives of this city and other municipalities of the South Banat district in Pancevo in late March. In addition, as she stated, "Serbia Train" will continue to improve the BG train system in cooperation with the City of Belgrade and introduce new lines, first of all to Lazarevac and Mladenovac.
Deputy Mayor of Belgrade, Goran Vesic, said that the plan of the City, through the development of railway infrastructure in Belgrade and the introduction of new BG lines, would enable better connections between suburban municipalities such as Lazarevac, Mladenovac, Surcin and the city center.

 
At the meeting, it was said, among other things, that it will be considered that while the reconstruction of Jajinci - Mala Krsna railway is being reconstructed, additional departures of trains from Mladenovac, and that after the completion of the reconstruction the departures will be at regular intervals.
The meeting was attended by the directors of "Serbia Train" Jugoslav Jovic, " Infrastructure of the Railways of Serbia" Miroljub Jevtic, "Serbia Cargp" Dusan Garibovic, "Serbian Railways a. d. "Goran Adzic, as well as Assistant Mayor of Belgrade Andreja Mladenovic.