Mihajlovic and Vucevic on the construction site of the apartments for security forces: I asked for doctors to also be able to buy affordable apartments
Fri, 05/22/2020 - 14:55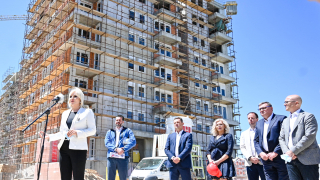 Deputy Prime Minister and Minister of Construction, Transport and Infrastructure, Prof. Zorana Mihajlovic PhD, visited today with Mayor of Novi Sad, Milos Vucevic, the works on the construction of apartments for members of the security forces in this city.

Mihajlovic said that this project is of great importance for the country and that the ministry headed by her, sent a request to the Commission of the Government of Serbia to extend the project to health and education workers.
"We want to enable both health and education workers to be able to buy these apartments. This is another way to repay them, first of all, the health workers for everything they did and are doing during the corona virus epidemic. "This project is very important for our economic development, construction did not stop during the crisis and will contribute to faster economic development and GDP growth," she said.

Mihajlovic, together with Mayor Vucevic, firstly visited the final works on the construction of the overpass over Belgrade-Novi Sad highway, and pointed out that the overpass, worth 500 million dinars, will connect citizens of Kaca with the industrial zone and Shanghai settlement.
"We have invested two billion dinars in road infrastructure in Novi Sad. We have excellent cooperation with the city and we will continue to work together for the benefit of the citizens," she said.

Milos Vucevic said that Novi Sad got one of the most beautiful settlements in which people of the security forces will have excellent living conditions.

"There has never been more investments in Novi Sad than now. I am also happy that the Government of Serbia yesterday declared the construction of the new bridge in Novi Sad and a bypass, a project of national importance. That is extremely important for our city," he said.

Nebojsa Surlan, director of the Construction Directorate of Serbia, stated that the first phase of 547 apartments in Novi Sad is being completed, and that four more tenders have been announced this year.

"Last year, we started the construction of 1,530 apartments, this year 16 tenders were announced for 4,300 apartments, and we still have Nis with 2,200 apartments, whose construction will begin next year," he said.