Mihajlovic and Vucevic visit construction site for the apartments in Novi Sad: Contract for Fruska Gora Corridor tomorrow
Mon, 10-05-2020 - 15:43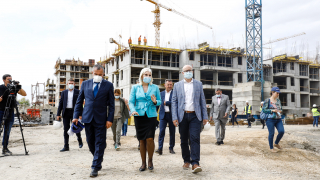 Deputy Prime Minister and Minister of Construction, Transport and Infrastructure, prof. Zorana Mihajlovic, PhD, visited today with the mayor of Novi Sad, Milos Vucevic, the construction site for the construction of apartments for members of the security forces in this city and on that occasion said that today in Serbia 1,700 workers work on the construction of these apartments, and that the state decided to develop infrastructure, road and railway, as well as communal and construction sector.

"Serbian companies are working on the construction of apartments, just as Serbian companies produce everything that these apartments are equipped with." This is important for the development of our construction industry. It is important that in this difficult times for the whole world, we make all those who can do it, in order to contribute to the growth of the economy. And to get out of the crisis, that affects everyone, as easily as possible. We have an excellent cooperation with the mayor of Novi Sad, everything is done here on time, by agreement and without mistakes. We are also thinking about new locations in Belgrade and Novi Sad, considering that seven thousand people registered for a thousand apartments in Belgrade in a minute and 47 seconds," she said.

Mihajlovic added that tomorrow, in the presence of the President of the Republic, Aleksandar Vucic, a contract will be signed for the construction of Fruska Gora Corridor, which has been awaited for decades.

"This corridor has been talked about for decades, and we have completed the negotiations, we will complete the project-technical documentation by the end of the year, and we will start the works next year. Currently, works are being carried out on 250 km of highways, and so many more are planned. "Roads connect people, and that brings a better life," said Mihajlovic.

Milos Vucevic said that progress can be seen every time we do sightseeing of the works, and that after "Belgrade Waterfront", this is the largest construction site in Serbia.

"Many thanks to the President of the Republic, the Government and the Ministry for their support and fantastic cooperation. It will be this beautiful settlement where 10,000 people will live, with a kindergarten, a school and sports complex. "In addition, we are working with PE "Roads of Serbia" on a large roundabout that will enable easier entry and exit, especially for trucks," said Vucevic.

Mirko Petrovic, acting director of the Construction Directorate of Serbia, pointed out that 1,972 apartments are being built in Novi Sad on 145,000 square meters, worth 8.5 billion dinars.

"The project is divided into two phases. The first with 548 apartments will be completed in February 2021. Thank you to the Deputy Prime Minister for the trust placed in the Construction Directorate of Serbia and the mayor and all public companies for good cooperation. The works are being carried out everywhere within the scheduled deadlines and dynamics, and this is an example of what a construction site should look like," said Petrovic.