Mihajlovic: Another flight to Paris this afternoon to bring back our citizens
Tue, 03-24-2020 - 19:45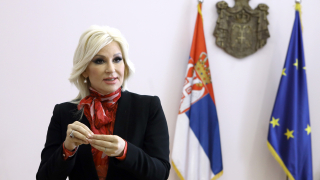 Deputy Prime Minister and Minister of Construction, Transport and Infrastructure, prof. Zorana Mihajlovic PhD, said today that the Government of Serbia, with the assistance of the President of the Republic of Serbia, is intensively working to return our citizens who have been detained at international airports in Europe and the world.

"It's not easy or simple, we've been working around the clock for 24 hours. In addition to our citizens, whom we brought from Havana and Moscow airports, last night a 140-passenger plane landed at Nikola Tesla Airport. An aircraft from Paris with 144 passengers and one baby landed during the evening, while a plane from Shanghai arrived during the night with help from our Chinese friends. Thank you to the Chinese people, President Xi Jinping and Ambassador Chen Bo for all they are doing for our country at this time," she said.

Mihajlovic added that another humanitarian flight to Shanghai is planned for today, which is scheduled to land back in Belgrade at 1.30pm on Wednesday.

"Another flight to Paris is also planned for today, which should bring some more of our citizens back to the country just before 10:00 PM. We are doing everything we can to provide both the humanitarian cargo, which is very important in these moments, and all of our people, to return," she concluded.