Mihajlovic on the beginning of works on Belgrade-Sarajevo highway : We are building stable future for the region together
Wed, 10-09-2019 - 09:27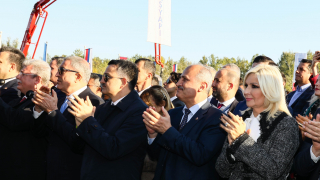 Deputy Prime Minister and Minister of Construction, Transport and Infrastructure, prof. Zorana Mihajlovic PhD, said that the construction of Belgrade-Sarajevo highway is one of the most important infrastructure projects in the region, which should contribute to greater stability and faster economic development of the region.

"With this project, Serbia and Bosnia and Herzegovina not only look to a better future, but also create it together, building roads and bridges that will connect us and help us grow together faster and make the whole region more stable," Mihajlovic said on the construction of the first section of Belgrade-Sarajevo highway, from Sremska Raca to Kuzmin, attended by President of the Republic of Serbia Aleksandar Vucic, President of the Republic of Turkey Recep Tayyip Erdogan and members of the Presidency of Bosnia and Herzegovina.
She added that works on the construction of the highway between Sremska Raca and Kuzmin are expected to take about two and a half years. The project will also include the construction of a new bridge over Sava River and a joint border crossing. In addition to the Turkish company Tasyapi, as the main contractor, local companies will also work on it.

"This project is an example of how a major infrastructure project can be quickly prepared and started as a commercial contract was signed at the end of 2018. In parallel with the execution of the works on the first section, project-technical documentation for the second section, Pozega-Kotroman, about 60 kilometers long, will be worked out and we expect to have a project prepared by the end of 2020," Mihajlovic said.

The value of technical documentation and works on the construction of the section Sremska Raca - Kuzmin is 225 million euros, and the length of the future highway going to Bijeljina is about 18 kilometers.