Mihajlovic on Belgrade-Sarajevo highway: We have opened a new page of history of Serbs and Bosnians
Thu, 10/10/2019 - 15:17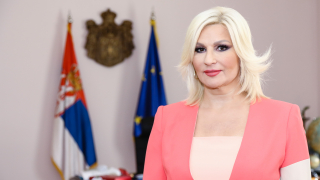 "The construction of the highway from Belgrade to Sarajevo is important for both Serbia and the region. We have opened a new page of history of Serbs and Bosnians. Twenty years ago, we waged wars, and today we are starting to build a highway that is supposed to connect us and not only reconcile us, but to allow us all to have a better life. It seems to me that we are not aware of the importance and the historical significance of the start of the works," said Deputy Prime Minister and Minister of Construction, Transport and Infrastructure, prof. Zorana Mihajlovic PhD.
Asked to comment on the start of work on the construction of the highway from Sremska Raca to Belgrade, which was solemnly celebrated on Tuesday in the presence of the President of Serbia and Turkey, Aleksandar Vucic and Recep Tayyip Erdogan, and members of the Presidency of Bosnia and Herzegovina, Mihajlovic said that the essence is not instability and wars, but to live better, from whatever side of the river we live.

"The bottom line is that we live better and have a higher standard of living, from whatever side of the river we live. And so gratitude to both Turkish and President Vucic and members of Bosnia and Herzegovina Presidency because that is the message we send - we are here to live better, not to look at who is of what religion and nationality," Mihajlovic said.