Mihajlovic in Branicevo district: 2.5 billion for roads, we are investing in the protection of the Silver Lake
Tue, 06-04-2019 - 15:19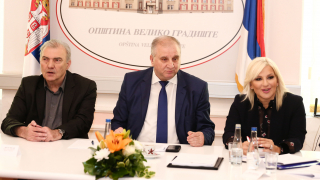 Deputy Prime Minister and Minister of Construction, Transport and Infrastructure, prof. Zorana Mihajlovic PhD., visited Branicevo district today and in Veliko Gradiste held a meeting with the district chiefs and the presidents of nine municipalities on the topic of infrastructure projects important for this region.
 
"Only in the reconstruction of the roads in Branicevo district we will invest 2.5 billion dinars, with the funds for regular maintenance. We invested five billion dinars in railroad reconstruction and railway transport. What is also ahead of us is to connect Pozarevac with the highway and build a fast road to Gradiste and Golubac. It will be very important for economy and tourism, but above all, for every family in this region, to stay and live here, " she said.
At the meeting it was stated that a new project of the Ministry of Construction, Transport and Infrastructure for additional protection of the largest tourist center of the district - Srebrno jezero, starting with the construction of water supply and sewage network, will start at the beginning of next month.
 
President of the Municipality of Veliko Gradiste, Dragan Milic, thanked Deputy Prime Minister and the entire team for assistance and support, noting that several key projects for this municipality were agreed at today's meeting.
"Cooperation with Serbian government in the last five years is on a better level than it ever was. Today, we have agreed to reconstruct Beli Bagrem road - Zatonje, build a bicycle path to Ramski fort and asphalting the Gradiste-Makce road, "he said.
 
Aleksandar Djokic, head of the Branicevo district, said that today's meeting was fast, clear and efficient, and that with the Deputy Prime Minister and Minister agreed on the realization of several projects important for the city of Pozarevac and the municipalities of this region.
 
"For Branicevo district, it is important that the traffic infrastructure is developing, the best example is the completion of Pozarevac-Majdanpek railway line, a fast road will be built, we will be getting gas, and now we can only wish for more investments," Djokic said.