Mihajlovic: Bridge over Sava, pride of its engineers, finishing in October
Tue, 05-07-2019 - 15:52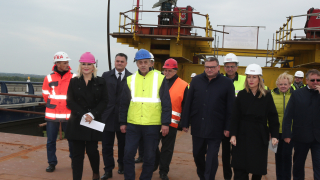 Deputy Prime Minister and Minister of Construction, Transport and Infrastructure, prof. Zorana Mihajlovic PhD., visited works on the construction of the bridge across Sava River near Ostruznica today, on the bypass around Belgrade, and on this occasion expressed admiration to Serbian engineers for the way they designed and carried out construction work on the bridge.

"The fact that this technical procedure in construction is being performed for the first time not only in Serbia, but in this part of Europe, speaks in favor of our experts ready for big ventures. This is especially important because Serbia is launching a new investment cycle worth five billion euros this year, "she said.

Mihajlovic said that the construction of the bypass around Belgrade will reduce the emissions of harmful gases, noise and pollution, and that transit traffic and heavy trucks will be removed from the city center which will contribute to faster, more efficient and safer traffic.

"I invite you to attend the installation of a bridge in June, which will be completed by October," she said.

Zoran Drobnjak, director of PE "Roads of Serbia", said that 80% of construction works were completed and that it was a technological challenge that is rarely performed in Europe.


Dubravka Negre, Head of the European Investment Banking Agency for Serbia, who financed this project, thanked the Ministry of Construction, Transport and Infrastructure, engineers and contractors for good implementation, and stressed that EIB finances two key points on Corridor 10 - bypass around Belgrade - highway to Skopje, through Grdelica.


"The bypass around Belgrade is important because it contributes to the regional connectivity and the relocation of heavy freight traffic from the city center," she said.

 
The bridge over Sava is part of the bypass around Belgrade and the value of the project is four billion dinars.