Mihajlovic: Cadastre is and will be in the service of citizens
Mon, 07-13-2020 - 11:39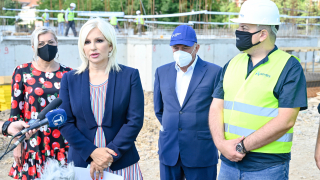 Deputy Prime Minister and Minister of Construction, Transport and Infrastructure, Prof. Zorana Mihajlovic, phD, stated today that a lot has been done in the real estate cadastre in the previous period, but that there are still a large number of cases that are older than five to ten years that need to be resolved.
When asked by journalists during a tour of the works on the construction of apartments for members of the security services in Zemun, she said that today there are about 750,000 active cases.
"A large number of cases are up to ten years old. Within those 750,000 active cases, there are also 25,000 old ones, and the deadline for resolving their cases is until the end of the year. The state also took a loan from the World Bank in the amount of 40 million euros, and one part of the loan is intended for the way to solve those cases. Everything that was necessary for the cadastre was provided by the state, and I expect the Republic Geodetic Authority to realize that. The cadastre must be functional and in the service of the citizens," she said.
Mihajlovic pointed out the reforms that were implemented in the cadastre, recalling the introduction of e-cadastre.