Mihajlovic with Chinese company CRSC: Fast railway line from Belgrade to Budapest is the largest infrastructure project in the region
Thu, 10/10/2019 - 15:11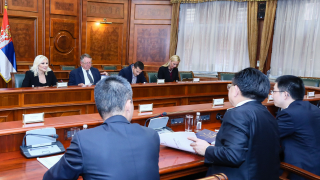 Deputy Prime Minister and Minister of Construction, Transport and Infrastructure, prof. Dr. Zorana Mihajlovic, met today with a delegation of the Chinese company Railroad Signal End Communication Company (CRSC), led by Zhou Zhiliang, Chairman of the Company's Board of Directors, and discussed with them the realization of the project of building a high-speed railway line from Belgrade to Budapest, but also other railway infrastructure projects.
Mihajlovic emphasized that Serbia and People's Republic of China have very good bilateral cooperation, especially on major infrastructure projects, thanks to the excellent friendly relations between the two presidents, Aleksandar Vucic and Xi Jinping.

"Together we are building a high-speed railway line from Belgrade to Budapest, the largest infrastructure project in Southeastern Europe. This is a very important project for Serbia, because for the first time we are building a railway line that will run 200 km per hour. It is indisputable that you have vast knowledge and experience in the development and equipment of high-speed lines, I am sure that you will apply the latest technologies in the realization of this project and that everything will be realized on time," said Mihajlovic.
Zhou Zhiliang expressed his gratitude to Deputy Prime Minister for the support she provided in implementation of Belgrade-Budapest high-speed railway project, pointing out that CRSC is one of the leading companies in the PRC in developing the railway traffic control system, and expressed confidence that everything will be implemented in accordance with the highest standards, given that this company has the technology and certificates in accordance with European regulations.
CRSC is a subcontractor of Chinese consortium CRIC-CCCC for signaling, security, control and telecommunication works and delivery of equipment for these facilities for the construction of high-speed railway lines from Belgrade to Budapest.