Mihajlovic with Chinese Exim Bank delegation on financing of infrastructure projects from the new investment cycle
Mon, 01-20-2020 - 09:33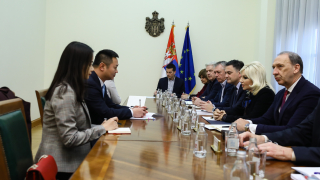 Deputy Prime Minister and Minister of Construction, Transport and Infrastructure, prof. Zorana Mihajlovic PhD, spoke today with the delegation of Chinese Exim Bank about financing projects in the transport infrastructure.

"Republic of Serbia and People's Republic of China have very good cooperation in the field of infrastructure, and Exim Bank is a financier on some of the largest projects in Serbia, including the construction of Milos the Great highway, Belgrade Bypass and Belgrade-Budapest express railway line. We want to continue this cooperation on projects that we plan to implement within the new investment cycle," Mihajlovic said.
Among other things, the meeting discussed projects on the construction of Fruska Gora Corridor, the section of Milos the Great highway from New Belgrade to Surcin, Iverak-Lajkovac high-speed highway and the reconstruction and modernization of  Belgrade-Nis railway line.

Deputy Director of the State Credit Department of Chinese Exim Bank, Zhu Ying , thanked Deputy Prime Minister for supporting the projects financed by this bank and emphasized that he is ready to continue successful cooperation in the field of transport infrastructure.