Mihajlovic with Chinese partners on cooperation in railway transport
Tue, 05-21-2019 - 14:23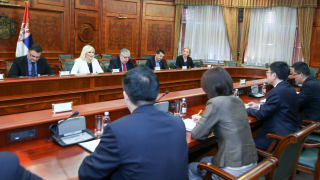 Deputy Prime Minister and Minister of Construction, Transport and Infrastructure, prof. Zorana Mihajlovic PhD., met today with the chairman of the Chinese company CRRC ZELC Fu Chengjun, with whom she discussed the possibilities of cooperation in the field of rail transport.
 
Mihajlovic emphasized the importance of the interest of one of the world's best companies in the field of rail transport when Serbia launches a large investment cycle in infrastructure worth five billion euros, adding that the two countries are characterized by good relations.
 
"The relations between the two presidents and our two countries are getting better, which contributes to the faster development of Serbia. In cooperation with Chinese companies, we are implementing several major infrastructure projects, one of which is the modernization of the Belgrade-Budapest railway line, as part of the global initiative "One belt, One road". We are also launching new projects and I believe that there is room for cooperation with your company, " she said.
Fu Chengjun agreed that the friendship between the two countries and two nations is at the highest level, and that the relations of Serbian President Aleksandar Vucic and PR China Xi Jinping are a driving force for further development.
 
"We are witnessing the beautiful future and the development of Serbia's transportation infrastructure. After successful cooperation with EPS within Kostolac project a few years ago, we want to consider possible ways of continuing cooperation and contributing to the development of transport in your country. Our company is one of the most successful in the production of railway vehicles and rail equipment. We are developing innovative technologies and we are particularly focused on electric locomotives, transport vehicles, EMU and hybrid technologies, "Fu said.
The meeting was also attended by the directors of "Infrastructure of the Railways of Serbia" and "Serbia Train", Miroljub Jevtic and Jugoslav Jovic respectively.
 
At the end of the meeting, the interlocutors exchanged gifts - Deputy Prime Minister gave the president of the company CRRC ZELC Serbian alphabet in goldsmiths, the work of women from rural areas, in the framework of the initiative "Let's employ 1,000 women in rural areas", while she from her Chinese colleague got a model of the train that this company produces.