Mihajlovic: A common border crossing with the countries of the region is the solution for waiting at the borders
Wed, 03-13-2019 - 14:32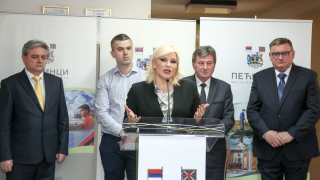 Deputy Prime Minister and Minister of construction, transport and infrastructure, prof. Zorana Mihajlovic PhD., said today that she has sent an initiative to the countries in the region to set up joint border crossings in order to speed up the flow of traffic between countries.

 
"We have a serious problem with waiting on the borders, as more cars are passing through Serbia. On Corridor 10 only, 55 million vehicles have passed last year, 20 million more than in 2014, and this year we expect 60 million vehicles to pass through Serbia, " she said.
Mihajlovic said that with Bosnia and Herzegovina, North Macedonia and Montenegro it will be like she indicated, but that the problem is with countries which are member states of the European Union.

 
"We should do everything to agree with the authorities of Croatia and Hungary and establish a common border crossing in order to accelerate the flow of goods and people and solve these non-physical barriers," Mihajlovic said.