Mihajlovic: A common border crossing with neighbors is the solution for waiting at the borders
Thu, 04/04/2019 - 11:14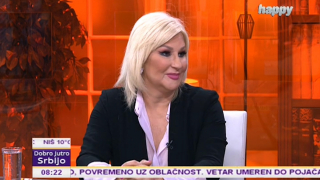 "For Serbia and all the countries in the region, it is very important to create joint border crossings so that the flow of people and goods would flow faster and without waiting at the borders," said Serbian Deputy Prime Minister and Minister of Construction, Transport and Infrastructure, prof. Zorana Mihajlovic PhD, guest in the morning program of TV Happy.
 
Mihajlovic said that Serbia is talking with its neighbors about the opening of integrated border crossings because it is a solution for the long-waiting at the borders.
"With Bosnia and Herzegovina, Macedonia and Montenegro we are building one border crossing, however, the problem is the countries of the European Union that have their own procedures, but I think we will succeed with Bulgaria and Romania to agree on one border crossing," she said.
 
Deputy Prime Minister recalled that today is different from 1990s to 2010, when Serbia lost its momentum, stood in place and did not build Corridors, as neighboring countries did, and when traffic was bypassed our country.
 "Today, the situation is different, we are finishing Corridors and we are returning traffic to our highways, last year 54 million cars passed through Serbia, we expect 60 million by the end of the year, which is 20 million more than a few years ago," she said.
 
Mihajlovic added that it is unacceptable for trucks to wait up to 700 minutes at the borders, and that Serbia will organize a meeting with the ministers of transport and police from the region to solve this problem.
 
"We will gather all the ministers from the region to see what we can do, because this is not good for any country, and the removal of non-physical barriers must be resolved," Mihajlovic concluded.