Mihajlovic: Completion of Corridor 10, the pride of all citizens
Tue, 05-14-2019 - 10:13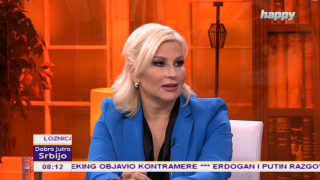 Deputy Prime Minister and Minister of Construction, Transport and Infrastructure, prof. Zorana Mihajlovic PhD., said that the completion of the construction and releasing highway for traffic through Grdelica Gorge is a great victory of our construction workers, but also of all citizens of Serbia.

 
"On Saturday, the entire Southern fork of Corridor 10 will be released, we will have a highway from north to south, from Horgos to Presevo. This is the first victory of our egineers, but also the victory of all citizens and something they can be proud of, "Mihajlovic told a guest on TV Happy.

 
She added that the via highway from Nis to Thessaloniki one will be able to arrive in about three hours, and from Vranje for two hours, but the most important thing is that everything is done so that the new road is safe.
"Construction of the highway through Grdelica gorge is the most complicated project in Serbia, but also in Europe, due to geology. On these sections, 250,000 tons of asphalt were installed, 650,000 cubic meters of stone were removed, two tunnels and 33 bridges were built, including the two highest bridges in Serbia, the railway line and the river bed were moved, "Mihajlovic said.

 
She added that she expects that sections from Obrenovac to Cacak will be released for traffic by June 28th (Vidovdan), in December the sectionSurcin-Obrenovac, and during the summer, the remaining part of the Eastern fork of Corridor 10 will be released.
She recalled that Serbia, in the 1990s and in good part after 2000, while other countries had completed their corridors, ours stood in place. "Today, we are finishing the projects we have inherited and we are starting new ones, and on the infrastructure projects in Serbia, the best European, Chinese, Russian, American companies are working. This year we are starting to build four new highways, and the first among them will be the Preljina-Pozega highway, where works start this week. The value of the construction of this section is 450 million euros, and the third of the route consists of bridges and tunnels, some of which will be longer than the longest in Grdelica gorge. Work begins on Belgrade-Sarajevo highway, from Sremska Raca to Kuzmin, and on the Moravian Corridor, where works are carried out by American "Bechtel", and in autumn the works on the highway Ruma-Sabac-Loznica will start", she said.

 
She added that due to the increase in transit through Serbia, it is important that after 30 years the Belgrade ring, that is, the bypass around Belgrade, which is currently being built on the section from Ostruznica to Bubanj Potok, and a continuation of work towards Pancevo.