Mihajlovic: Construction of the Belgrade metro is the biggest infrastructure project in the region
Fri, 06-14-2019 - 18:08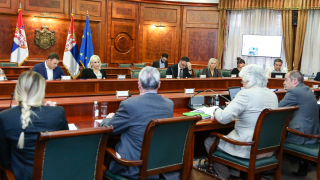 Deputy Prime Minister of Serbia and President of the Working Group for the implementation of the project for the construction of the Belgrade Metro, prof. Zorana Mihajlovic PhD., said that the construction of the metro in Belgrade is "the largest and financially most demanding infrastructure project in the region, worth more than four billion euros".
At the second session of the working group, at which the French company "Egis" presented the previous feasibility study and the proposal of two metro lines, Deputy Prime Minister said that the Belgrade metro project is of the utmost importance for Belgrade, but also of interest for the Republic of Serbia, which is why the most important task is to choose the optimal way of financing this project.
"The question of all questions is the model of financing this project, the cost structure, as well as the final price, and that is why the Government joined in, because the City of Belgrade can not present this project on its own. Financing will be the main topic of discussion in our working group, which includes Sinisa Mali, Minister of Finance, "Mihajlovic said.
At today's session, the working group made a decision to send a preliminary feasibility study to the Republic Audit Committee by the General Eisis project and to appoint a financial advisor to make a financial and economic analysis of the construction project for the Governmental Working Group for the Belgrade metro. Also, it was told to the City of Belgrade to submit to the working group all decisions that have been made so far in relation to this project.
Apart from Mihajlovic, Minister Mali and other members, the meeting of the working group was attended by Mayor of Belgrade Zoran Radojicic, representatives of the Chinese company "Power China" and the French company "Egis".
At the meeting, a line of 1 metro, which would go from Zeleznik to Mirijevo (21.3 km long), with a estimated value of 2.33 billion euros, and line 2 from Zemun to Mirijevo (19.2 km long), which is the estimated value of EUR 2.07 billion. According to this proposal, the crossing of these lines is foreseen at Savski Square, near the building of the former Main Railway Station.