Mihajlovic: Construction is the driving force of the economy, 16 000 more construction sites than in September last year
Thu, 10-15-2020 - 12:49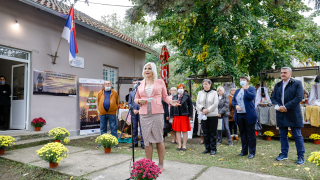 Deputy Prime Minister and Minister of Construction, Transport and Infrastructure, Prof. Zorana Mihajlovic, PhD, stated today that construction sites in Serbia were working all the time during corona virus pandemic and that construction is the driving force of economic development.

"Just as women from the countryside do not stop and work day and night, so do construction sites in Serbia. Not only do we record 16,000 more construction sites than in the same period last year, but the last year's estimated value was 56 billion dinars, and now it's 96 billion dinars. "All of this shows that construction is the driving force of the economy," she said.

Mihajlovic added that the development of construction is a base, in order to allocate funds for other important things as well.

"In order to further develop, it is important to be free, and in order to be free, we must all fight together against all discrimination and marginalization," said Mihajlovic from the village of Jezevica, marking the International Day of Rural Women.