Mihajlovic: By construction of the fast track road Iverak-Lajkovac we connect Valjevo with "Milos the Great"
Tue, 11/12/2019 - 15:58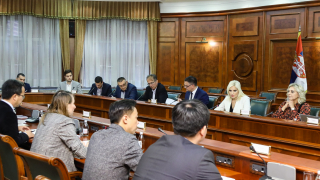 Deputy Prime Minister and Minister of Construction, Transport and Infrastructure, prof. Zorana Mihajlovic, today held a meeting of the Working Group for the implementation of Iverak-Lajkovac fast track road, which was also attended by representatives of the Chinese company CRBC, to make sure the dynamics of the activities are up to date and the plan of the next activities will be carried out.

Mihajlovic emphasized on this occasion that this project is important for our country and citizens who live and gravitate towards this part of Serbia, bearing in mind that this road represents a connection with highway Milos the Great.
"Thank you to the Government of the People's Republic of China for being with us for all the major projects we do. Friendly relations of the two presidents, Aleksandar Vucic and Xi Jinping, contribute to our fruitful cooperation. I expect that we will harmonize the elements of the commercial contract as soon as possible, and work on the preparation of the project technical documentation in parallel, so that the works can start in the spring of the next year, "she said.

Zhang Xiaoyuan, CRBC Director General in Serbia, thanked the Government of Serbia Deputy Prime Minister Mihajlovic for their trust and stressed that through joint cooperation, all deadlines would be respected.

"Our team of engineers was on the ground, along with representatives from the Ministry, Roads of Serbia and the Institute for Roads. I am sure that we will accomplish everything within the deadline, given the support you give us," Zhang said.

The meeting of the working group was attended by representatives of the Ministry of Construction, Transport and Infrastructure, Roads of Serbia and the Institute for Roads.