Mihajlovic: Corridor 10 is finished, Grdelica has been overpowered
Wed, 05-08-2019 - 09:51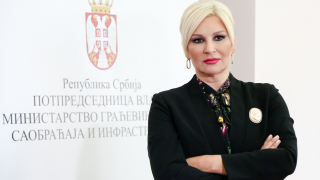 "Grdelica Gorge is overpowered, the Southern fork of Corridor 10 to Northern Macedonia and Greece is completely finished and depending on the weather conditions in the next ten days will be officially opened for traffic," said Deputy Prime Minister of Serbia and Minister of Construction, Transport and Infrastructure this morning, prof. Zorana Mihajlovic PhD.

 
Ms Mihajlovic stated for the morning program of TV Prva Live from her office, that we have waited for over 30 years for Corridor 10 to be finished, that this highway has now been completed and that traffic safety was the main consideration when the highway was built.
"It's the toughest construction site in Europe, with a section of 26.3 km, we have 33 bridges, among them the highest bridge Vrla, and the two longest tunnels Predejane and Manojle. Great work was done, we removed the main road, removed 600,000 cubic meters of stone, behind us are very difficult interventions and huge work and I am proud of all the workers who participated in the construction of Corridor 10. There will be no descent from the highway to the main road, which will affect traffic safety, which is in the first place, "she said.

 
Mihajlovic added that Serbia wants to mark the opening ceremony of the highway with the ceremonial ceremony and invite all the companies that took part in the construction, as well as all the partners and surrounding countries.
 

Deputy Prime Minister said that Serbia will start construction of three new highways this year, from Preljina to Pozega, on the section Sremska Raca - Kuzmin, as well as the construction of the Moravian corridor.
 

"In addition, by the summer we will release the Eastern fork of the Corridor 10 to Bulgaria into traffic, as well as the section of Corridor 11 from Obrenovac to Preljina, 103 km long. By December, the section from Surcin to Obrenovac will also be finished, and we will start construction of Ruma-Sabac highway and highway Sabac-Loznica, "concluded Mihajlovic.