Mihajlovic: Corridor 10 is finished, we are releasing it for traffic on Saturday
Thu, 05-16-2019 - 11:12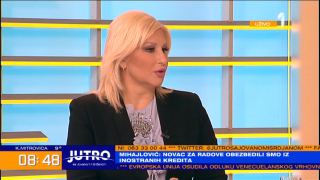 "The Southern fork of the Corridor 10 from Hungary to Northern Macedonia is completely finished and on Saturday we will officially release it for traffic. We made a highway for the people and showed that we can finish things, as we promised, "said the Deputy Prime Minister of Serbia and Minister of Construction, Transport and Infrastructure, prof. Zorana Mihajlovic phD.

She, who visited the morning program of TV Prva, pointed out that Serbia was finally connected to the highway from Horgos to Presevo and that the most modern highway was built, according to all European and world standards, and that the opening of Corridor 10, the last section through Grdelica, allow a much higher traffic flow.

"Grdelica is a construction masterpiece and the most difficult construction site in Europe. There were many problems, we displaced the river and a part of the railway corridor, on the section there are two longest tunnels, Manajle and Predejane, 36 bridges, of which Vrla Bridge is 62 meters high, 7 km of new slopes and alternative roads built. A lot of work is behind us, it was important for us to finish the highway before the season, because we built it for the citizens of this country, " Mihajlovic said.

Deputy Prime Minister said that Serbia was recognized today as the fastest route and that 56 million cars went through our country in 2018, meaning 20 million more than in 2014.

"We are winding up the corridors, this is important for our country and new investments, and we are starting to build new ones. Tomorrow the construction of Corridor 11 starts from Preljina to Pozega, we are expecting the beginning of works on the highway to Bosnia and Herzegovina from Sremska Raca to Kuzmin, as well as Moravian corridor, very important for Serbia, because they will connect Corridors 10 and 11 and large cities in the central part of the country, " she said.

Mihajlovic added that Serbia today is a stable state, with a stable budget and economy, which gives us the opportunity to invest in infrastructure.

"Corridor 10 is our big school. We will not start any more projects until everything is prepared in advance - plans, project documentation, expropriation. There are no unexpected circumstances, "she said.