Mihajlovic: Corridor 10 mission completed!
Fri, 11-08-2019 - 14:53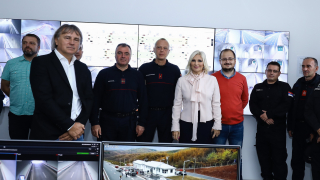 "Today I can proudly say that the mission of Corridor 10 is completed. After Grdelica, tomorrow we will release the Eastern fork of the Corridor for traffic. We've been dreaming about it for decades, others have talked more and worked less, and we have completed Corridor 10, "said Deputy Prime Minister and Minister of Construction, Transport and Infrastructure, Prof. Zorana Mihajlovic PhD.
As she visited the Eastern fork of Corridor 10, she expressed her gratitude to all the contractors and subcontractors who built this highway section.

"Thanks to the President of the Republic, the Government of Serbia, the ministry I lead, " Corridors of Serbia" and all the contractors, we have completed Corridor 10. Special thanks to the workers who sometimes worked even in three shifts to have the highway completed today. I am here today also to agree on continued cooperation. Serbia does not have time to wait and build large infrastructure projects for decades, as it has been the case with this corridor," she said.
Mihajlovic added that tomorrow at noon, in the presence of the President of the Republic of Serbia, Aleksandar Vucic, Prime Minister of Bulgaria, Boyko Borisov, members of the Government of Serbia, diplomatic core, and citizens, the Eastern fork will be launched.

"With the completion of Corridor 10, Serbia has returned to the European transit map. New highways mean new investments, economic development and a better life for all our citizens," she added.
Deputy Prime Minister also announced that the section Surcin-Obrenovac will be launched on December 19th, and that construction of new highways, such as Moravian Corridor, Ruma-Sabac-Loznica, Sremska Raca-Kuzmin, will be starting soon.