Mihajlovic with CRBC: Highway from Surcin to Obrenovac will be finished by the end of the year
Fri, 04-19-2019 - 11:37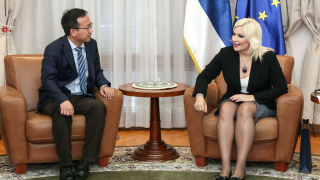 Deputy Prime Minister and Minister of Construction, Transport and Infrastructure, prof. Zorana Mihajlovic PhD., talked today with Zhang Xiaoyuan, director of the Chinese company CRBC in Serbia, about the infrastructure projects that this company is implementing in our country in cooperation with the Ministry.

 
"We are very satisfied with the cooperation with CRBC, the way in which you are implementing the project of building a highway from Surcin to Obrenovac is an example for all, and I expect that the works will be finished by the end of this year. After a successful meeting at the 16 + 1 Summit in Dubrovnik and signing two memorandums, we are pleased that we will continue to cooperate on the construction of the most difficult part on Corridor 11 - Pozega-Boljare, as well as on the construction of the section New Belgrade-Surcin, because it will enable the full functioning of Corridor 11, "said Mihajlovic.
Zhang Xiaoyuan assured the Deputy Prime Minister that the highway from Surcin to Obrenovac will be completed before the deadline, adding that the CRBC is working intensively to achieve the goals agreed in Dubrovnik.

 
"We are preparing a preliminary solution for the Pozega-Boljare section, next year we will start construction from New Belgrade to Surcin, and we are working intensively on preparatory activities for reconstruction of the railway from Belgrade to the border with Northern Macedonia.", He said.

 
Interlocutors agreed that the construction of the fast road Novi Sad - Ruma is of great importance for Serbia.
At the meeting, there were words about the significance of the upcoming "One Belt, One Way" Summit that will be held in Beijing next week. President of Serbia, Mr. Aleksandar Vucic will be taking the participation alongside Deputy Prime Minister, Ms. Zorana Mihajlovic.