Mihajlovic with Csaba on good bilateral relations, direct flight between Serbia and Canada and promotion of gender equality
Fri, 10-02-2020 - 12:40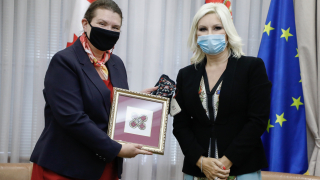 Deputy Prime Minister of Serbia, prof. Zorana Mihajlovic, PhD, received today in a farewell visit the Ambassador of Canada, H.E. Kati Csaba, and on that occasion thanked her for her strong commitment to improving bilateral relations between our two countries, as well as support when it comes to gender equality and economic empowerment of women.

"I hope that you will continue to work with the future Canadian ambassador to Serbia and that the relations between Serbia and Canada would be even better. I believe that we will establish a direct flight between our two countries. Thank you for your support and help, especially when it comes to gender equality, for us the improvement of the position of women and their economic empowerment are very important," said Mihajlovic.

Ambassador Kati Csaba said that she had followed the progress of Serbia in several areas with the pleasure during previous three years of her mandate.

"Your leadership role in gender equality, but also in improving the position of Serbia on the Doing Business list, is very important. Also, the infrastructure projects you are implementing. I did my best to follow all the activities and give my contribution ", said Csaba.

On this occasion, Mihajlovic gave a gift to the Ambassador Kati Csaba - a miniature in gold embroidery, the work of Serbian women who make traditional handicrafts within the initiative of the Coordination Body, Ethno-Network and NALED - "Let's hire 1,000 women".