Mihajlovic: From December, flights from Morava Airport to Vienna, from March to Thessaloniki
Tue, 11/26/2019 - 14:46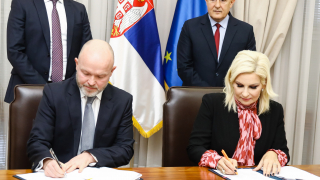 Deputy Prime Minister and Minister of Construction, Transport and Infrastructure, prof. Zorana Mihajlovic PhD, and Air Serbia's director, Duncan Naysmith, signed an agreement today to operate air services on two routes of public interest from Morava Airport near Kraljevo.

"Due to a transparent procedure and a public invitation, Air Serbia was given the opportunity to fly to Vienna from early December and to Thessaloniki from spring, from the third international airport in Serbia, Morava Airport near Kraljevo. As the resor minister, I am proud of how our three international airports operate, both Belgrade and Nis, which will end the year with more than 400,000 passengers, and we also want to develop Morava Airport, where construction will begin next year new runways, "Mihajlovic said after signing the Agreement on the Provision of Air Transport Services on Lines Declared as Lines of Public Interest in the Government of Serbia.

Air Serbia's director, Duncan Naysmith, said they were very pleased that Air Serbia had been given the opportunity to depart flights from Morava Airport from December 1st and that the company would fly from a total of three airports in Serbia.

Assistant Minister for Air Transport, Zoran Ilic, said that Kraljevo-Vienna-Kraljevo and Kraljevo-Thessaloniki-Kraljevo lines were declared lines of public interest based on analyzes and at the suggestion of Sumadija and Western Serbia regions by a decision of the Serbian Government, which accepted their request.

It is planned that flights on Kraljevo-Vienna-Kraljevo line will start in the first week of December and on Kraljevo-Thessaloniki-Kraljevo line from March 10th, 2020. Vienna line will operate throughout the year, Thessaloniki line runs from March to October, and both flights will fly three times a week.