Mihajlovic with the delegation of People's Republic of China: Fast railway track from Belgrade-Budapest is an example of good cooperation  
Fri, 07-05-2019 - 14:58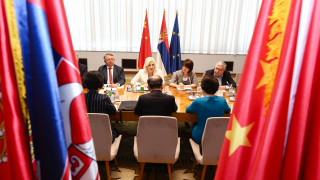 Deputy Prime Minister and Minister of Construction, Transport and Infrastructure, prof. Zorana Mihajlovic PhD., spoke today with the delegation of the PR China, led by Ning Jizhe, Vice President of the National Commission for Development and Reform of the People's Republic of China, on the implementation of Belgrade-Budapest fast railway track project, part of the global initiative "Belt and Road".
Mihajlovic emphasized that Serbia and People's Republic of China have special friendly and bilateral relations, thanks to the cooperation of the two presidents, and that the value of current joint projects amounts to five billion euros, while for potential projects is planned even more.
"Modernization of the fast railway track from Belgrade to Budapest is the most important project in this region. We are proud to be part of the global project "Belt and Road", but we are also proud of the fact that PR China is present not only in infrastructure, but in other capital projects and that our Chinese partners transfer their knowledge, experience and new technologies " she said.
Deputy Prime Minister added that due to the regional importance of this railway line, it would be good to include the other two countries - Northern Macedonia and Greece in the fast railway track project - to have the essential corridor Budapest-Belgrade-Skopje-port Piraeus.
"Serbia's strategic orientation is regional integration and we are ready to provide support for these two countries to be included in the aforementioned railway corridor. We have completed the road Corridor 10, and with the completion of the railway we will contribute to the economic growth of the country and a better standard of citizens, which is our main goal, "Mihajlovic said.
Ning Jizhe pointed out that relations, cooperation and political trust between the two countries are becoming stronger and better, and that the project of the modernization of the fast railway track represents an excellent example of cooperation for all in the region.
"With the joint efforts and support, the construction of the section of the fast railway track through Serbia is progressing well. We expect that in 2020 will have a complete section from Belgrade to Stara Pazova and will start building the third section from Novi Sad to Subotica. We are pleased that Chinese technology and equipment are used in the realization of this important project. Sincere gratitude to the Government of Serbia for its strong support, "he said.
The meeting was held within the Eighth meeting of the Trilateral Working Group of the Republic of Serbia, Hungary and People's Republic of China for the project of reconstruction and modernization of the Belgrade-Budapest fast railway track, which was held today in Belgrade.