Mihajlovic with the director of "Rio Tinto": Jadar is of huge importance for Serbia
Wed, 04/03/2019 - 12:36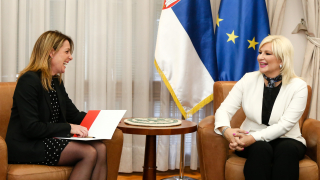 Deputy Prime Minister and Minister of Construction, Transport and Infrastructure, prof. Zorana Mihajlovic phD. met today with Marnie Finlayson, general director of Rio Tinto (Rio Sava Exploration l.l.c.), with whom she talked about the realization of Jadar project near Loznica.
At the meeting, there were words about road infrastructure, and Deputy Prime Minister Mihajlovic emphasized that the development of project-technical documentation for the construction of a high-speed Sabac-Loznica road is in progress because Serbia is committed to regional integration, and without infrastructure development there is no economic progress.
 "Jadar is a project of enormous importance for our country and the Ministry that I lead will provide full support for its realization, both in terms of infrastructure works, as well as in all other phases concerning spatial planning and building permits. We are glad that such a successful company sees Serbia as an attractive investment environment and that a modern mine, which is in line with new technologies, will be built in our country, "she said.
Marnie Finlayson introduced the dynamics of the implementation of the Jadar project to Deputy Prime Minister Ms. Mihajlovic, saying that the preparation of project documentation is in progress and thanked the minister and her team for the support and commitment they provide.
At the meeting, the mutual interest of the two sides to continue close cooperation on the development of a modern mine and an industrial plant was confirmed. 
Project "Jadar" encompasses one of the most important world deposits of lithium borate, found near Loznica. Jadar is the only place in the world where this mineral can be found and the development of the project will enable the supply of a significant percentage of world demand for lithium.